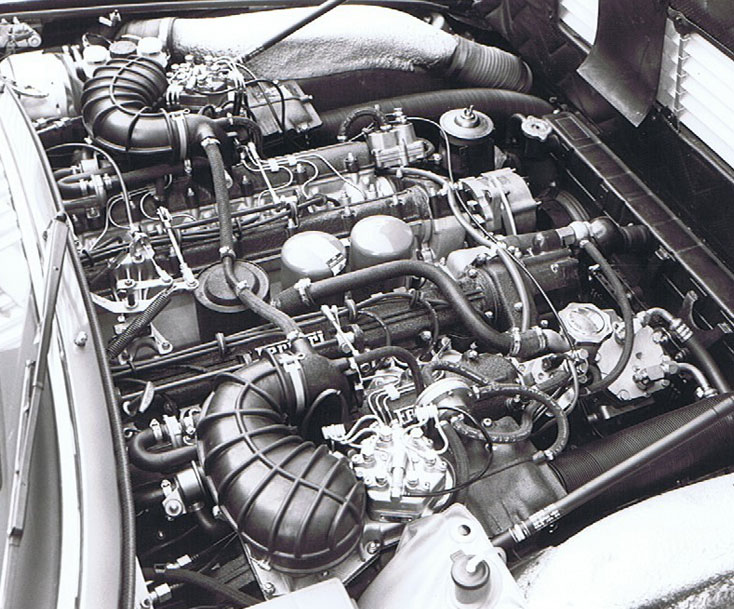 Value & Budget
No rest for the "TOP MODEL"
Value and maintenance budget :
We will see in this page, if living the passion is inevitably ruinous and if this object of passion is achievable for most of us, or only by a few privileged few.
The 400, for whom?
The 400 range is not sought after for the external sign of wealth (it is better to buy a 355 that everyone recognizes instantly), as for the show off it is better to invest in an Audi or a Porsche with a more promising image.
So the 400, a passionate choice for whom?
For anyone who wants to live the myth of the front engine V12! Among passionate ferraristi, owners of F40 or 288 GTO, owning a Maranello front V12 is an achievement, especially if it was produced during the Enzo Ferrari era.
The 400 makes it possible to meet all these expectations at prices that are still "relatively" affordable (for how long?) by offering discretion and…4 seats.
These enlightened enthusiasts love this fabulous car and are then ready to pass everything to it, including its star whims that can become sometimes annoying.
The purchase price: quite low for a Ferrari, it is starting to rise considerably for manual gearbox models:

365 GT4 2+2 from 70 to 120 K€
400 carburettors from 50 to 110 K€
400i from 40 to 100 K€
412 from 60 to 120 K€
This is all the more surprising because:
This car was the most expensive of the range in the 70s and 80s. It was indeed necessary to pay about 730.000 French Franc in 1984 or 1.5 times the price of a 308 to acquire a 400 !
This car is extremely rare today which will inevitably create tensions on the market: first of all there were only about 2,900 units produced of all models combined (365-400-412), compared to more than 10,000 Testarossa/512, more than 12,000 308/328, and later more than 12,000 360 Modena ! And yet, because of its low price, never before has a Ferrari been so destroyed, demolished or simply abandoned. How many are left today? Under 2000? And how many in good condition? However, more and more enlightened enthusiasts are highlighting, at a time when Ferrari is returning to the front engine (California, Portofino) and the front V12 (812 Superfast, GTC4 Lusso) that it is much closer to the great Ferrari tradition than its V8 or flat 12 siblings!
Automatic gearbox or manual gearbox?
Manual gearbox models being the rarest, they are more sought-after and therefore more highly valued. Their value has literally soared, with the latest Klassik Car rating (Germany), which puts manual models at €55k for models in good original condition, compared with €25k four years ago. Without a doubt, the extremely rare 400/400i manual gearbox (there are still around 400 ex in the world less than 600 produced) follows very clearly the trend of soaring prices of its older sisters Daytona, 330 GT, 365 GTC/4.
Whilst models with manual gearboxes are more sought-after today, Enzo Ferrari was not mistaken in offering an automatic gearbox as standard on this GT, as its ease of use and readily accessible performance are no match for those of the 400 with manual gearbox. Indeed, in the city, the relatively heavy clutch and gearbox of the 400 with manual gearbox require concentration if the traffic is dense. The single disc clutch is fragile (note that later 412s were equipped with a dual disc), at each start it is 1.8 tons that must be moved and this makes each start a little stressful. On the highway, you reach 130 km/h with a speed of 3000 rpm in automatic gearbox and 3500 rpm with the manual gearbox, which quickly becomes tiring and very thirsty (20l/100km against 15/100km). Finally, it is only on a small road that the manual gearbox really takes the advantage, as the revs will increase faster. The choice between an auto gearbox and a manual gearbox depends on the use you make of your 400 and personal taste.
In general, more than the search for the best price when buying, the search for a sound basis is more essential because the most expensive outlay is not always the purchase of the car. A 25 K€ model will most of the time cost you at least 25 to 30 K€ extra for a correct repair but not perfect.
Indeed, the value of this car being relatively low, it has often brought these beauties into hands that could not afford to maintain them. Many owners neglect to perform the minimum of service which greatly affects the inherent reliability of the car.
All these points will be detailed in the following sections, you will find the minimum necessary for a healthy car, the budget, some useful garages and addresses as well as a description of the difficulties that each owner have met one day.
The cost of insurance:
Insurance is a cheap item, as the 400 is accepted as a collector's vehicle, it is possible to insure it as such at very competitive rates, even in the all-risk formula. Depending on the coverages and companies, it is necessary to count from 80 € (basic package) to 1200 € (all risks package) per year, which is very reasonable.
The maintenance: which partner to choose?
This is a strategic question to keep in mind when you decide to take the challenge. On the one hand because it must be regular and meticulous, and on the other hand because it can reach dizzying heights if you make the wrong choice. Several solutions are available to the owners:
The first, which would appear as the simplest at first sight, going to the official Ferrari network. However, you should know that some of the workshops we surveyed are not comfortable operating on our old ones. Indeed, it is quite understandable that a Ferrari agent, specialized in the delicate maintenance of 488 or new Lusso's, no longer have the necessary experience for the maintenance of old Ferraris. We do not ask this from any manufacturer (take your 300 SL to a Mercedes dealer, you will see his face!), so why asking the Scuderia? However, if you want your vehicle to be restored and you have the budget to do so, you can contact the Classiche department of Ferrari.
The second, for simple operations such as engine and gearbox drains, you can consider doing it yourself (considering the height of the body, it is better to have a pit).
The last solution is to turn to independent garages, ideally recommended by classic Ferrari owners.
The real downside is the extremely high price of new parts at Ferrari, which has sold all its stocks to Ferrari United Kingdom. Fortunately, there is a very small parallel market that allows invoices to be reduced, and this market is largely supplied by the members of this club.
To simplify, if the car is generally reliable for a Ferrari, it should not be confused with an American car or a Beetle, and its maintenance must be regular and rigorous.
Maintenance: 'easy' operations
Before each exit and at least every 500 km
Checking all levels, water, oil, brake fluid, power steering.
Every 5,000 km
Engine oil change (at least every year), 18.75L of good quality oil (which does not necessarily mean
synthetic), the ideal being 10w 50 semi-synthetic. There is no point in using modern fully synthetic oil.
The risk is above all to see its oil consumption increase significantly, the machining constraints are not the same as today and a slightly thicker oil makes it possible to compensate for this. The normal oil consumption is between 1 and 2L per 1,000Km, more if you use a more fluid or if you drive hard.
Always change the two oil filters as well.
Checking the spark plugs, changing them if necessary (be careful there are 12 and it is important to follow the recommendations).
Check the gearbox oil level and grease everything that can be greased.
Every 10,000 km
Checking belts, changing air filter cartridges and CO2 adjustment, checking air conditioning and Freon recharge.
Checking all the electrical connections (there are many), this operation is important,
electrics not being the strong point of the car at all.
Replacement of fuel filters and cleaning of the blow-by. Control of pipes, hoses and the cooling system in general.
Ferrari also recommends tightening all the bolts.
Every 20,000 km
In addition to everything else, there is a draining / rinsing / descaling of the cooling system and a gearbox / rear axle draining.
The above operations are not very complex, they just require time and a little attention to details to be carried out. One potential problem, however, is that a pit is almost essential to properly drain the engine.
More complex, but just as essential maintenance:
Every 10,000 km
Checking and tensioning the distribution chain. Beware, this is the car's Achilles heel,
If this chain breaks, it could lead to repair costs easily reaching 15 K€.
Every 30,000 km
Check and adjust valve clearance.
Every 40,000 km
Checking the chain tension, or as soon as its adjustment is no longer possible, replacing the distribution chain.
A few figures, a few prices:
An oil change costs about 400 euros with filters (there are 18.75 litres of oil at about 10 euros, as well as two filters at about 15 euros).
A TRX 240/55 VR 415 tyre costs 450 euros.
Repair of the starter for 800 euros in 2002.
Replacement of all belts for 1000 € in 2008.
Replacement of complete exhaust lines with custom stainless steel models with a lifetime warranty of €4,000 with installation in 2008 (the two original lines are worth around €6,500 at Ferrari).
Replacement of the timing chain and tensioner, timing adjustment, valve clearance check, valve adjustment, engine tuning and various checks for a total of 4000 € in February 2007.
So much for the essential, despite that, chances are that it will not be enough to avoid any risk of incident. But living with a "TOP MODEL" has never been easy.