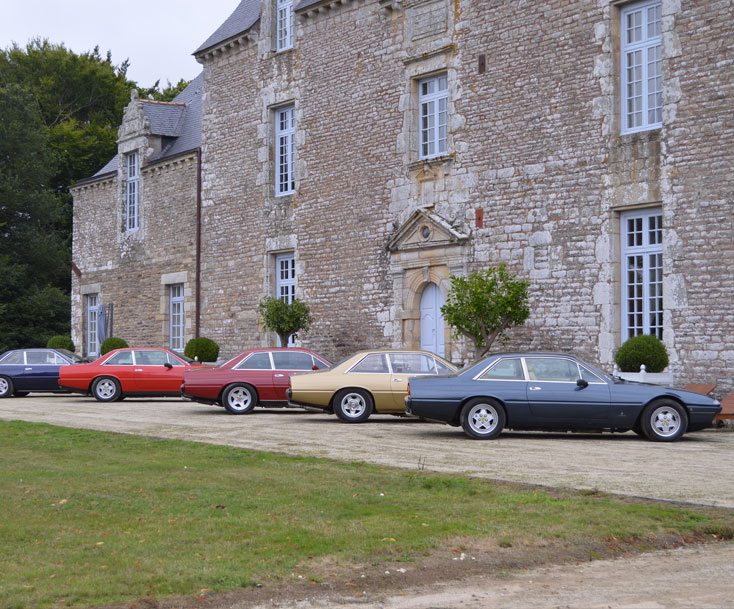 European F400 Club
Testimony of a great era of the Automotive industry
Today, the 400 is favoured by several insiders, including the members of this club, either because they declare themselves seduced by its qualities of use, or because they simply see in it one of the most beautiful Ferraris produced.
For a long time, she was the last Ferrari 2+2 with a front engined V12, it is therefore not surprising that she lived a little in the shadow of the two-seater models, more directly carried by the light of the sporting heritage. But let's not forget that the 400 is both a bearer of the essential traditions on which Ferrari has built its legend – a 60-degree V12 engine, tubular chassis, haute couture bodywork, nobility and warmth of materials – and that it was also the first Ferrari to offer essential innovations at Ferrari such as automatic transmission, ABS and fuel injection, well before V8 or flat V12 engines.

Its relatively low price today has often led it into careless hands that could not afford to maintain it at the level of its rank. The number of 400s is therefore slowly decreasing every year. It is already difficult to find models with a manual gearbox in good condition, and we guarantee that the same will be true for automatic models in the next 10 years. It is therefore high time to collect it.
Whether you are an owner, passionate about this Ferrari or simply curious, the European Ferrari Club 400 aims to make you better acquainted with this still fully up-to-date testimony of a great era in the automotive industry.
Enjoy your visit to our pages!
President of the European Ferrari Club 400 – Frederic Schilling